Submitted by Dmax on Sat, 10/02/2010 - 20:25
Posted in
love electronics as much as I love my camera.Ive not made anything for ages so its about time I got my soldering iron out :) so this last few weeks Ive been working on this thing , Im not following any plans and just making it up as I go along so I do hope it will work when its done lol.

the camera mount is from an old tripod I had laying around. I made a simple slip ring using copper wire to feed the tilt motor and infrared led to trigger my camera you can see this running round the base. the LCD will display info and you will be able to set the amount of shots, how long between each shot and a few other things. I'm thinking of fitting a socket so I can plug a PIR into the unit and get that to trigger the camera just incase I want to go out and take a some wildlife shots.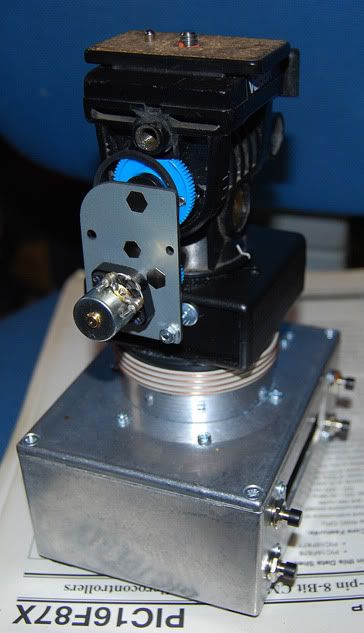 I was going to use stepper motors but as I had two small Dc motors I'm using these with a opto counter from an old microsoft mouse so the micro controler will know where it is.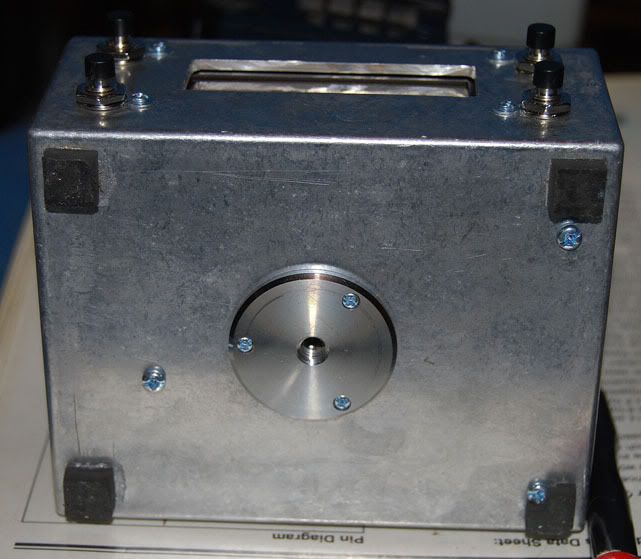 I've fixed a screw mount so the unit can be fitted to my tripod.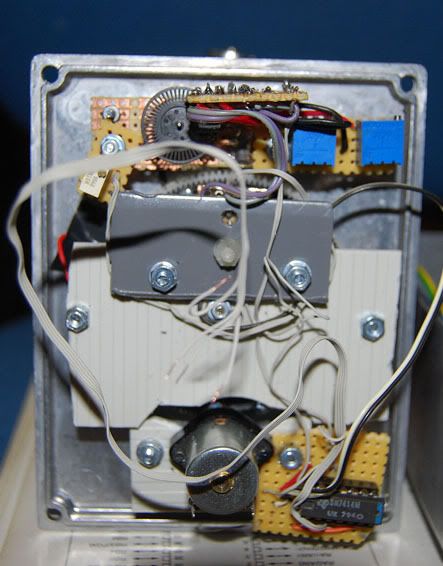 here you can see one of the opto counters there is also one more that you cant see in the picture to tell the micro when its done one revolution.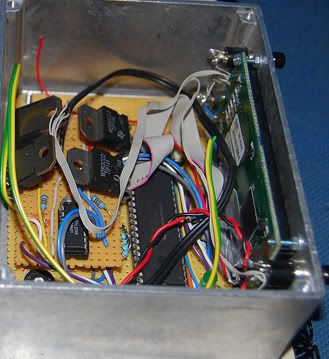 and heres a picture showing the picmicro,sitting on top of that is one of the H bridge circuits but I will changing this with a IC to save space.
I have the basic code up and running but still have a lot to do. the unit triggers my nikon camera with a infrared LED but it will also have a socket to fit other camers.
I hope to have it ready in a few weeks, right now Im waiting for some H bridge Ic's to come in the post. I will post up a video when its up and running. cant wait to take it over out and get some sunrise/sunset footage using it :).
As I've never used a time lapse rig before Im not sure about what I should get my code to do, I mean what features should this unit have,below is the sort of thing I'm thinking of going with. there will be 5 steps and in each step you will be able to program the pause time and amount of shots taken.
What do you guys think ?? am I on the right track or would some other funtion be handy , I would love some feed back on this from someone that has used a time lapse rig as I'm about to get into the programing in the next day or two and it would.
step 1. Lead-In take static frames at the front of the shot by set amount time
step 2 Ramp-Up, move the camera from 0 point up to full speed and at the same time take shots by the set amount .
step 3 constant speed portion taking shots by the set amount
step 4 Ramp-Down move the camera from full speed down to 0 and at the same time take shots by the set amount
step 5 lead-out take static frames at the end of the shot.
thanks for reading and I hope someone can give me some feedback on this subject